From concept to production
We take a systems approach to product design
Electronics, firmware, mechanics and software have to work together; planning out the design with all of these elements in mind is crucial for a successful design
At every step of the way, interactions between all facets of the design are considered carefully.
Changes in any area of the design – say in the electronics architecture – are checked for impacts on the mechanics or the firmware to ensure there are no unpleasant surprises when the prototype comes together.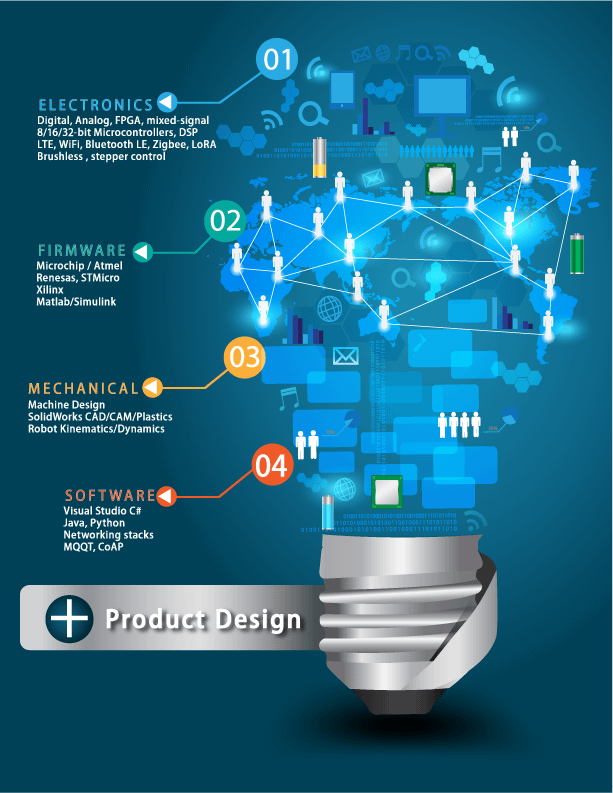 Product design at ARG starts with a comprehensive system functional specifications document. 
Once the specifications document has been reviewed and approved, the electronics and mechanical portions of the design proceed in parallel with a very tight linkage between the two. At the same time, components selected for the project are carefully evaluated for any supply chain issues .
Prototypes – boards and mechanical components – are manufactured next. You can use your existing manufacturing shops or ARG can source the prototype fabrication for you.
Firmware and software development are the next steps (after receipt of the prototypes) followed by testing. 
In some cases, testing reveals the necessity for a few design changes. If so, the process is repeated. If testing is successful, the final step is the documentation needed for manufacturing.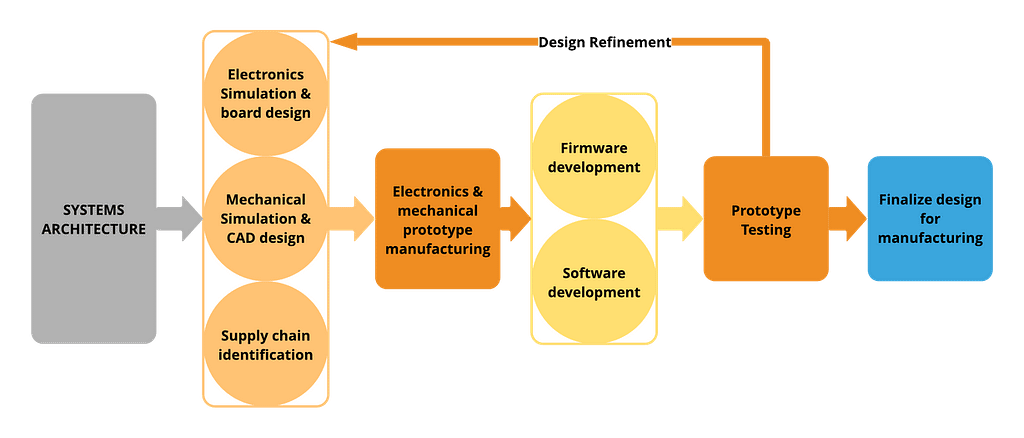 A typical project starts with a concept meeting – where we take your idea and start sketching out a system architecture followed by a detailed proposal. This usually takes a few days.
Once the proposal is approved, we produce a specification document. This goes into the details of the system architecture, time lines, budget and deliverables. This usually takes a day or two.
Design starts after the approval of the specification document. Electrical and mechanical designs are done in parallel and are linked together. Design time can take anywhere from a few weeks to a few months depending on the complexity of the project.
After prototypes are in (anywhere from a week to a month), firmware and software development starts. In some cases, the firmware and software starts up while the prototypes are being built. 
 The product goes through multiple stages of testing while the firmware and software are being developed.
Acceptance testing is the final stage – where ARG will work with you to put the product design through its paces – at the end of which design and manufacturing documentation is finalized and the project handed over